The Valle dei Laghi area is in the Province of Trento in the Italian Alps. A mosaic of mountain valleys, the area has an abundant water supply and a very fragmented population, with few cities, small villages and most municipalities having fewer than 5000 inhabitants.
Agriculture and food / wine production, hydropower production, forestry for wood fuel, slow tourism and winter ski tourism are the main economic activities. The Alps, and mountains in general, are recognised hotspots for climate change, with temperatures raising far beyond the average.
Rapid climate change impacts will exacerbate existing conflicts in water and land usage: participatory approaches must be used to ensure rapid transition to sustainable and integrated water management, biodiversity conservation and disaster risk reduction.
Contact this team | Contatta questa squadra | Kontaktieren Sie dieses Team  :
Valentina D'Alonzo – 

valentina.dalonzo[@]eurac.edu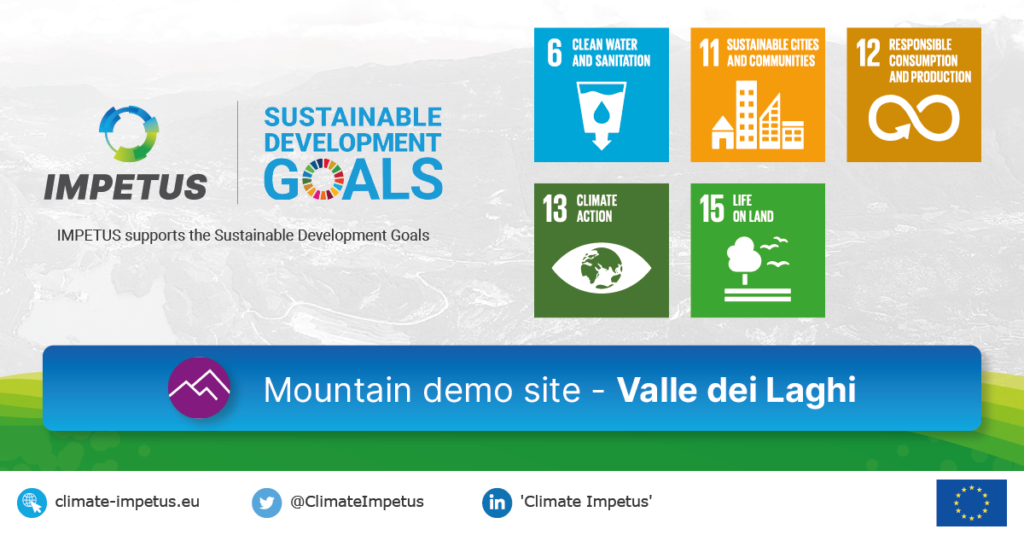 Water use Land use Economic impacts
Ambitions within IMPETUS:
Technology Readiness Level 8-9
Impact Chains (IC) provide a structured graphical and conceptual narrative of causal relationships between adverse impacts and the components that drive and constitute them. The IC approach has been widely applied to better understand vulnerability and risk related to climate change, notably by the Intergovernmental Panel on Climate Change, and has been used for risk assessment in climate change adaptation planning at local / national level in more than 10 countries. Step-by-step guidelines on how to adopt the IC methodology are available and internationally acknowledged.
Involve local experts in the Mountains demo site in a participatory process;
Combine Impact Chains with Rapid Risk Appraisal, to break down risks into exposure, vulnerability and climate hazard factors;
Pinpoint in which field adaptation measures need to be taken;
Use the results to foster behavioural change and increase communities' awareness and adaptive capacity.
This work is linked with:
National vulnerability assessments for Germany and Burundi
Technology Readiness Level

7-8
Developed in the INTERREG project GreenRisk4Alps, the Rapid Risk Appraisal (RRA) approach mainly focused on gravity-induced natural hazards, such as avalanches, landslides, rockfalls. RRA was then used in participatory processes in six different Alpine study areas before being adapted by the Alpine Convention Platform for Natural Hazards (PLANALP) for (online) workshops in Alpine Convention member countries, to improve the connection between contingency planning and emergency management.
Expand the RRA approach to include additional climate-related hazards, especially those connected with hydrological impacts;
Identify strengths and weaknesses in the management of risks connected to drought and floods;
Co-create an integrated risk management strategy for the area;
Replicate this activity in other mountainous areas to foster mutual learning and exchange of best practices.
This work is linked with:
INTERREG Alpine Space GreenRisk4Alps project
Natural Hazard Platform of the Alpine Convention (PLANALP)
Union Civil Protection Mechanism
Digital twin for seasonal hydrological forecasts
Technology Readiness Level

4-6
Seasonal hydrological forecasts are a rather new climate service, essential for anticipating the occurrence of droughts and floods and for managing water use conflicts. The digital twin uses a hybrid approach combining physically based hydrological models and machine learning to create these forecasts.
Use seasonal hydrological forecasts to feed a participatory Decision Support System (DSS) for the integrated and sustainable management of concurrent water uses;
Ensure this happens in the framework of the WEFE (Water Energy Food Ecosystems) nexus approach and takes into account environmental, economic and political constraints;
Use the DSS to identify drought water usage strategy and monitor snow availability in upstream catchments for Spring-time hydropower production.
This work is linked with:
Economic impact assessment of physical climate risk
Technology Readiness Level

4-5
Socio-Economic tools and risk projections enable the assessment of climate risks and the establishment of projections and metrics regarding future investments.
Identify highly vulnerable hot-spots using open datasets for Copernicus services and satellite-derived variables;
Transform this knowledge into a specific regional model and include this in the Resilience Knowledge Booster;
Use the RKB and regional model to elaborate economic assessment metrics to aid decision making about investments and future mitigation plans.
This work is linked with:
European Investment Bank
European Central Bank