The Valle dei Laghi area is in the Province of Trento in the Italian Alps. A mosaic of mountain valleys, the area has an abundant water supply and a very fragmented population, with few cities, small villages and most municipalities having fewer than 5000 inhabitants.
Agriculture and food / wine production, hydropower production, forestry for wood fuel, slow tourism and winter ski tourism are the main economic activities. The Alps, and mountains in general, are recognised hotspots for climate change, with temperatures raising far beyond the average.
Rapid climate change impacts will exacerbate existing conflicts in water and land usage: participatory approaches must be used to ensure rapid transition to sustainable and integrated water management, biodiversity conservation and disaster risk reduction.
Contact this team | Contatta questa squadra | Kontaktieren Sie dieses Team  :
Valentina D'Alonzo – 

valentina.dalonzo[@]eurac.edu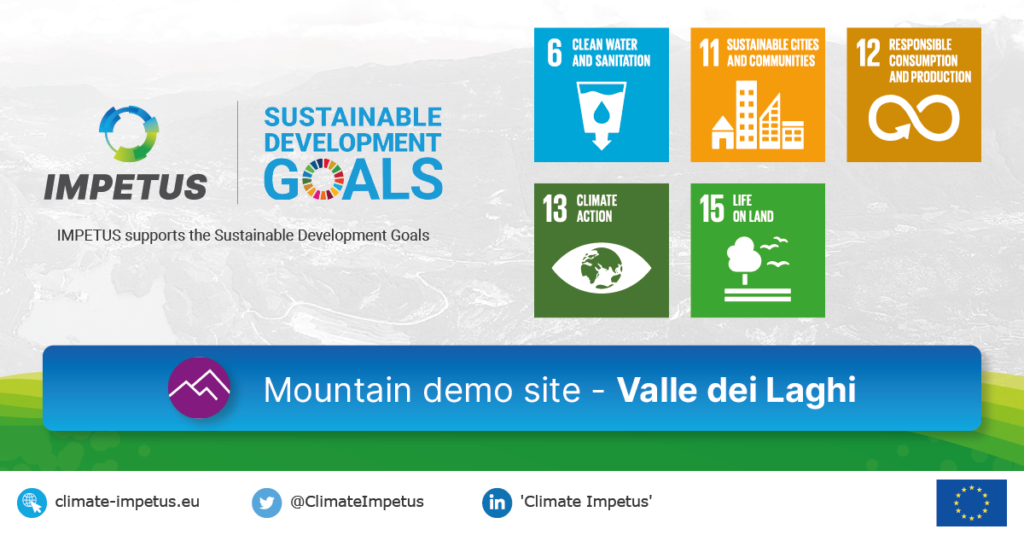 Water use Land use Economic impacts
Ambitions within IMPETUS:
Innovative insurance products for agriculture, forestry and hydropower energy production
Parametric or index-based insurance products – offering pre-specified pay-outs on the basis of climate change triggered events – would provide passive protection measures or sustainable financing instruments to invest in active protections such as hail nets, drip or top crown irrigation.
Design and test such an insurance system to protect agricultural crops, forest stands and hydropower energy plants against climate-related economic losses;
Involve stakeholders and experts from agricultural insurance consortia and ethical banking;
Support the design of insurance and financing models with tailor-made climate risk assessment tools that exploit existing data platforms providing seasonal forecasts and climate projections (e.g., Copernicus, Geo Mountains), enriched by local-scale data, and impact models;
Allow the economic evaluations to be based on assessment of future return periods for adverse climate events, such as hail, storms, floods, droughts, forest fires, etc.
Activate cultural heritage to enhance climate resilience
In the context of global climate change, mountains are predominantly facing an increase of already existing, locally occurring natural hazards of reversible risks. Although their potential to cause damage is high, they are well known to the resident communities, who have been dealing with such threats for decades or centuries. Therefore, at local and regional level, a thorough understanding of how to cope with these risks has evolved.
Tap into the regional endogenous knowledge, revealing how culture, values and beliefs influence risk perceptions and enable or impede climate adaptation measures;
Identify, research and test relevant cultural practices regarding their potential for further development, upscaling and transferability, compiling a 'template of protection facilities' to enable secure and contemporary living in mountain sites;
Identify and exploit the interconnected intangible and tangible components of cultural heritage that are an essential part of local identities and shared values, to detect triggers of behavioural change that can be applied in innovative climate change adaptation pathways;
Develop tools to foster societal awareness and facilitate win-win solutions for adaptation and implementation of low-carbon measures for historic buildings.
Bio-districts to address altitudinal shifts of crops
Rising temperatures change the growing conditions for crop species and affect where they can best be cultivated. A geographical area where farmers, the public, tourist operators, associations and public authorities can enter into agreement for the sustainable management of local resources, based on organic principles and practices is known as a 'bio-district'.
With Valle dei Laghi as a test-case bio-district, apply organic agriculture practices, cultivation of alternative vine varieties and engagement of socio-economic stakeholders & local community members to address challenges posed by the altitudinal shift of crops due to rising temperatures;
Monitor vineyards at different altitudes for their micro-climate conditions, vine productivity, grape quality parameters and vulnerability to pests;
Develop future scenarios for local climate, hydrology, water availability and land use, based on climate projections downscaled to the local context and observed land-use trends;
Use innovative participatory activities to co-create and co-design multifunctional farming plans to manage future water and land use conflicts in a sustainable and integrated way.
Technology Readiness Level 8-9
Impact Chains (IC) provide a structured graphical and conceptual narrative of causal relationships between adverse impacts and the components that drive and constitute them. The IC approach has been widely applied to better understand vulnerability and risk related to climate change, notably by the Intergovernmental Panel on Climate Change, and has been used for risk assessment in climate change adaptation planning at local / national level in more than 10 countries. Step-by-step guidelines on how to adopt the IC methodology are available and internationally acknowledged.
Involve local experts in the Mountains demo site in a participatory process;
Combine Impact Chains with Rapid Risk Appraisal, to break down risks into exposure, vulnerability and climate hazard factors;
Pinpoint in which field adaptation measures need to be taken;
Use the results to foster behavioural change and increase communities' awareness and adaptive capacity.
This work is linked with:
National vulnerability assessments for Germany and Burundi
Technology Readiness Level

7-8
Developed in the INTERREG project GreenRisk4Alps, the Rapid Risk Appraisal (RRA) approach mainly focused on gravity-induced natural hazards, such as avalanches, landslides, rockfalls. RRA was then used in participatory processes in six different Alpine study areas before being adapted by the Alpine Convention Platform for Natural Hazards (PLANALP) for (online) workshops in Alpine Convention member countries, to improve the connection between contingency planning and emergency management.
Expand the RRA approach to include additional climate-related hazards, especially those connected with hydrological impacts;
Identify strengths and weaknesses in the management of risks connected to drought and floods;
Co-create an integrated risk management strategy for the area;
Replicate this activity in other mountainous areas to foster mutual learning and exchange of best practices.
This work is linked with:
INTERREG Alpine Space GreenRisk4Alps project
Natural Hazard Platform of the Alpine Convention (PLANALP)
Union Civil Protection Mechanism
Digital twin for seasonal hydrological forecasts
Technology Readiness Level

4-6
Seasonal hydrological forecasts are a rather new climate service, essential for anticipating the occurrence of droughts and floods and for managing water use conflicts. The digital twin uses a hybrid approach combining physically based hydrological models and machine learning to create these forecasts.
Use seasonal hydrological forecasts to feed a participatory Decision Support System (DSS) for the integrated and sustainable management of concurrent water uses;
Ensure this happens in the framework of the WEFE (Water Energy Food Ecosystems) nexus approach and takes into account environmental, economic and political constraints;
Use the DSS to identify drought water usage strategy and monitor snow availability in upstream catchments for Spring-time hydropower production.
This work is linked with:
Economic impact assessment of physical climate risk
Technology Readiness Level

4-5
Socio-Economic tools and risk projections enable the assessment of climate risks and the establishment of projections and metrics regarding future investments.
Identify highly vulnerable hot-spots using open datasets for Copernicus services and satellite-derived variables;
Transform this knowledge into a specific regional model and include this in the Resilience Knowledge Booster;
Use the RKB and regional model to elaborate economic assessment metrics to aid decision making about investments and future mitigation plans.
This work is linked with:
European Investment Bank
European Central Bank