As the name Zeeland ("sea land") suggests, a large part of this south-western coastal province in the Netherlands is water. Consisting of islands, peninsulas and a strip of land that borders Belgium, the province includes two major river deltas and extensive estuaries. Barely above sea level and with some reclaimed land even below sea level, Zeeland has been subject to major flooding events throughout its history. The Rijnmond area around the port of Rotterdam in neighbouring South Holland province experiences similar issues and also accounts for 15% of the country's energy consumption, in large part by Europe's largest petrochemical industry cluster located there.
Flooding mitigation relies on a combination of physical defences, strategic positioning of critical infrastructure, rapid access and efficiency of emergency response teams, and swift response and resilient recovery after flooding occurs. Evaluated in the EU-funded FRAMES project, this multi-layered approach has led to flooding resilience policy recommendations.
Current climate trends will exacerbate flooding risks – from rising sea levels and more frequent extreme weather – and will cause summer heat stress in the exposed landscape and increase droughts.
Contact this team | Neem contact op met dit team :
Martine Rottink – 

martine.rottink[@]nelen-schuurmans.nl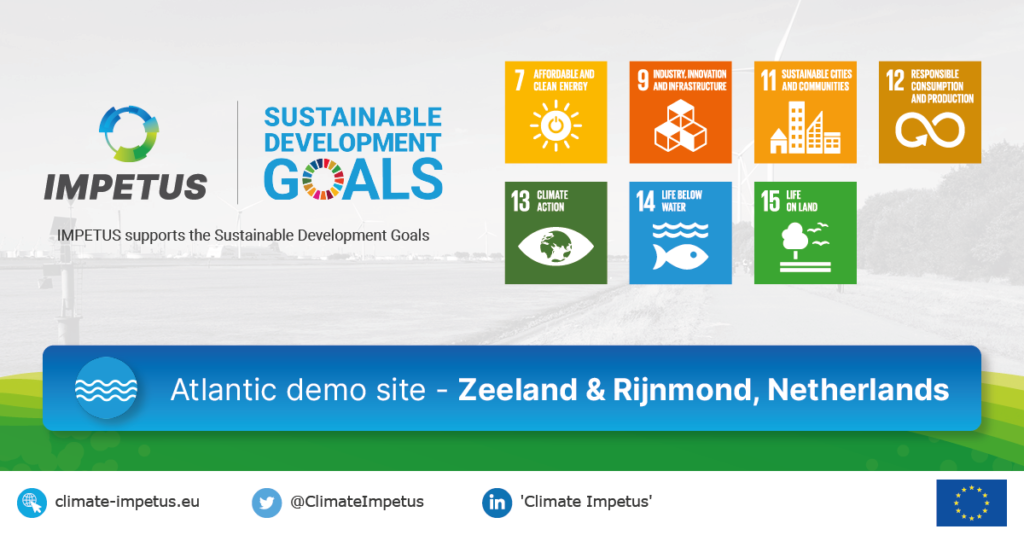 Flooding
High temperatures Energy and waste water
Ambitions within IMPETUS:
Digital Twin for freshwater and marine management
Technology Readiness Level 5-7
Evaluation of climate change risks is traditionally carried out via the crossing of results from impact modelling under different climate scenarios, vulnerability, and exposure assessment. In most planning conditions the risk assessment is generated from the overlapping of different Geographic Information System (GIS) layers; an effective methodology that is not easy for non-technical people to interpret, however, and is difficult to use in stakeholder co-design processes.
Demonstrate the potential of integrating state-of-the-art GIS representation of multiple variables with advanced 3D visualisation techniques to generate a 4D (3D+time) digital twin of the territory, making visualisation of risk areas and possible impacts much more effective and user friendly;
Use the digital twin coupled with the flood risk model '3Di' to enable investigation of solutions for climate-driven flooding;
Use the digital twin to support the co-design of climate-proofing actions to protect coastal cities from sea-level rise.
This work is linked with:
Netherlands Delta Program
EU Destination Earth Initiative, DestinE,
Water Framework Directive,
Digital Single Market Strategy,
Greenathon by the Hellenic Ministry of Environment and Energy
Troms&Finnmark County Marine Spatial Planning programme 2021-2024
Sediment delivery to coastal areas through irrigation networks
Technology Readiness Level 5-7
Techniques to by-pass sediments in some reservoirs is seen as a solution to maintaining their capacity in coastal areas. Modelling the sediment transport capacity of rivers under present conditions is a key part of this approach, which is a measure to adapt to sea-level rise.
Elaborate on solutions to deliver river sediments to the most threatened coastal areas;
Use irrigation networks to deliver sediment to agricultural areas at or below sea-level;
Validate computational models to periodically review and adapt solutions.
This work is linked with:
Economic impact assessment of physical climate risk
Technology Readiness Level 4-5
Socio-Economic tools and risk projections enable the assessment of climate risks and the establishment of projections and metrics regarding future investments.
Identify highly vulnerable hot-spots using open datasets for Copernicus services and satellite-derived variables;
Transform this knowledge into a specific regional model and include this in the Resilience Knowledge Booster;
Use the RKB and regional model to elaborate economic assessment metrics to aid decision making about investments and future mitigation plans.
This work is linked with:
European Investment Bank
European Central Bank
Below sea-level multifunctional wetlands
Technology Readiness Level 5-7
Constructed wetlands have been used to polish and treat urban wastewater are rarely applied to agricultural wastewater. Nutrients, metals, pesticides and organics have been successfuly removed at rates of 30-99%, based on various processes such as adsorption, precipitation, filtration, sedimentation, microbial degradation, and plant uptake.
Demonstrate feasibility for decentralised systems such as near-sea on-farm small wetlands;
Prove variable inlet flows improve performance for nutrient and organic pollutant removal, by including an adsorptive layer and innovative management systems (wet/dry periods) that maximise removal of specific pollutants before discharge.
This work is linked with:
Decentralised fit-for-use reclamation system
Technology Readiness Level 5-7
Decentralised treatment systems are commonly applied using conventional or advanced technologies such as a membrane bioreactor (MBR) and nature-based solutions (NBS) such as constructed wetlands (CWS) to treat grey water before discharge or re-use. Application has been limited to installations with constant inlet flow, presenting high energy or land requirements that hinder its use.
Demonstrate that decentralised reclamation compact technologies reclaim water with high-quality in installations with variable inlet flow and demands;
Demonstrate that in these circumstances energy requirements and the footprint of the system are reduced through the combination of treatments.
This work is linked with: