Remote sensing data from Earth observation satellites is central to the urgent task of tackling climate change and related work in the EU-funded IMPETUS project. IMPETUS is combining satellite data with societal, financial, administrative, economic and environmental inputs in innovative ways to create a powerful mechanism for science-based climate-change related policy making, knowledge sharing and citizen engagement. This game-changing approach was presented at the 2022 ESA Living Planet Symposium, where more than five thousand scientists, technology experts, and policymakers gathered to exchange the latest knowledge about Earth observation technology and data use.
Climate change has emerged as one of the greatest threats our world faces. It affects every environment differently: heatwaves may occur in the Netherlands while flooding may hit Germany, and wildfires could break out in Greece, while Italy experiences water shortages. The complexity of these issues is why climate change impacts can't be tackled with a single or isolated approach. Adaptation and mitigation strategies must take regional factors into account. This way, local administrations and communities in different bioclimatic regions can determine which adaptation solutions and investments are appropriate for them. IMPETUS addresses this need by combining satellite data with regionally relevant information, digital tools and human interactions in a new way to create 'Resilience Knowledge Boosters' (RKBs). Focusing this work around 7 European bioclimatic regional test sites, the IMPETUS RKBs will facilitate understanding of the local challenges and involve citizens and other stakeholders in creating appropriate solutions and decisions. This approach will also support the flow of knowledge to other communities that can benefit from similar climate change mitigation and adaptation solutions.
Expert partners and a novel approach
To achieve its innovative combination of satellite data with other kinds of inputs, IMPETUS uses the expertise of several of its 32 partners: Lobelia Earth – a Barcelona-based enterprise that is a significant player in satellite technology, computational intelligence and data visualisation for climate action; Waterjade by MobyGIS S.r.l. – an Italian organisation that supports IMPETUS development of local-scale climate and hydrologic projections; Eurecat – the leading technology centre in Catalonia, Spain, that coordinates the IMPETUS project and its development of digital technologies for optimal regional climate adaptation strategies; and UiT The Arctic University of Norway, where Dr Andrea Marinoni, an expert in data analysis, is Associate Professor of Applied Remote Sensing. Dr Marinoni presented the project's objectives and work during the Living Planet Symposium in a session on 'Climate Security – The key role of R&I and cooperation to address global threats'.
"The novelty of our approach is to bring together not only the digital dimension of the studies of climate change – sensors, observations, measurements that we can gather across the different demonstration sites and the different regions of Europe – but we will take into account the human dimension. This means having the constant engagement of stakeholders, communities and authorities in our process, so we will be able to understand in practice what climate change means for the different regions in Europe and how this can be addressed in a way that will be impactful."

Andrea Marinoni of UiT The Arctic University of Norway, presenting IMPETUS at ESA Living Planet Symposium 2022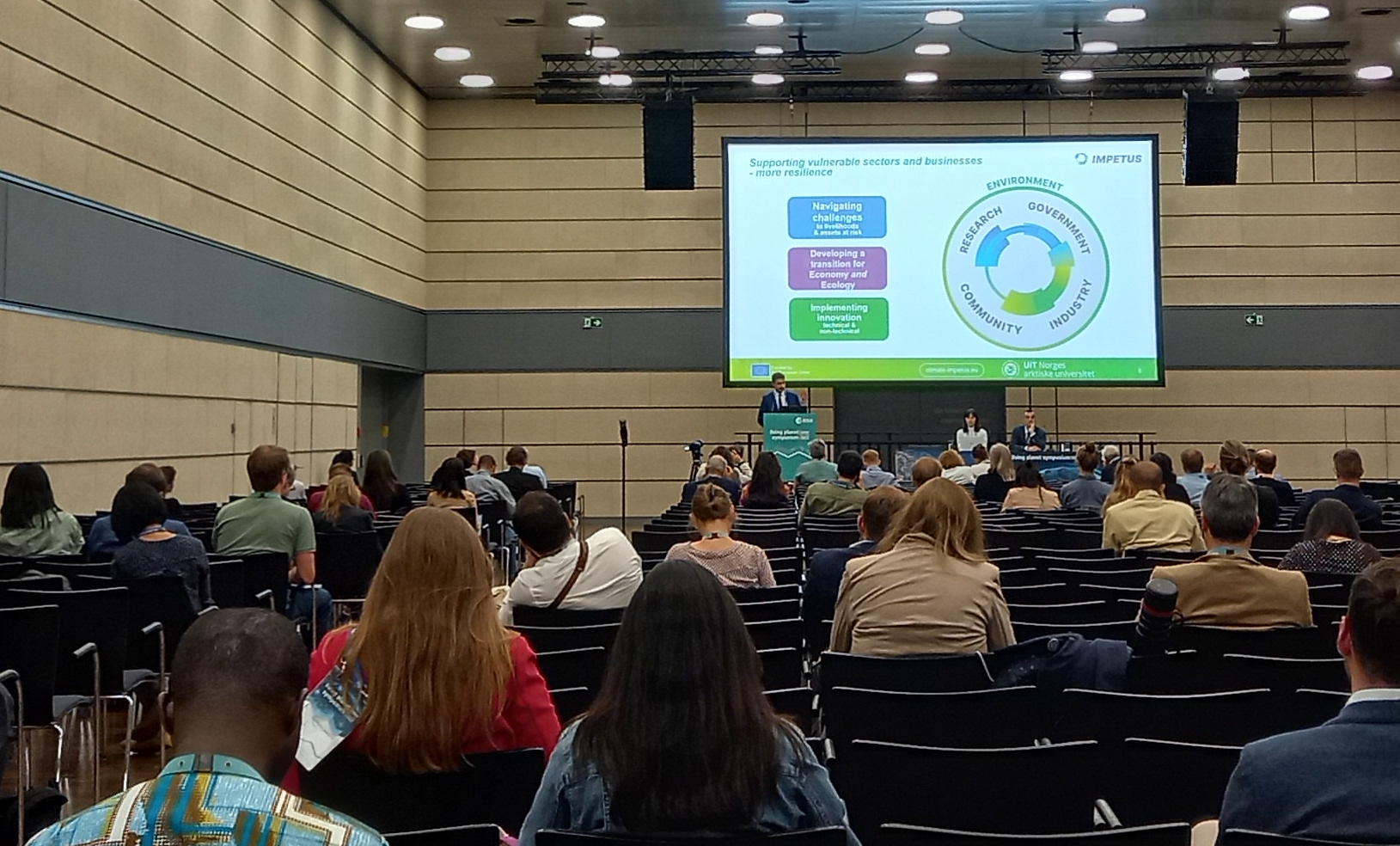 Andrea Marinoni at Living Planet Symposium 2022: Left – presenting the IMPETUS project; Right: being interviewed
Sentinels of change
A particularly important source of data for IMPETUS is the Sentinel constellation of satellites, which the European Space Agency (ESA) coordinates as part of the Copernicus programme. These satellites use various instruments to monitor our changing planet in different ways, providing a global picture of factors that are significant to our understanding of climate change and its effects, such as temperatures, vegetation and water quantity and quality.
"Sentinel satellites are able to observe and monitor water bodies in particular. They can be used to estimate the water quantity and quality in lakes and rivers. Sentinel-2 can be used to monitor river flow and estimate discharge, and to monitor snow coverage in the Alpine regions, whereas Sentinel-1 can be used to observe the melting of snow during the spring season."

Federico Di Paolo, Earth observation specialist, Waterjade by MobyGIS S.r.l
Understanding snow cover and melt is important for anticipating the amount of water that will be available in regions such as Valle dei Laghi in the Italian Alps, where IMPETUS has one of its 7 demonstration sites. Waterjade by MobyGIS S.r.l. is a partner here, with an important role in processing the satellite data that feeds into the regional climate models and projections. In the eo4alps Snow project, which is funded by ESA, the European Space Agency, Waterjade by MobyGIS S.r.l. and another IMPETUS partner – EURAC research – joined forces with other organisations to create a snow cover visualisation app. This app is expected to become part of the IMPETUS digital toolkit for this demonstration site. At the ESA Living Planet Symposium, the app was demonstrated for the first time by CEO of Waterjade, Matteo Dall'Amico.
"Our aim is to provide public administrations or, say, wineries who are taking water for their daily business with a decision support system to negotiate better during water crises. IMPETUS is becoming very, very urgent because such tools could be very efficient in providing insights on how much water there is going to be in the next weeks or in the next months."

Matteo Dall'Amico, CEO of Waterjade by MobyGIS S.r.l.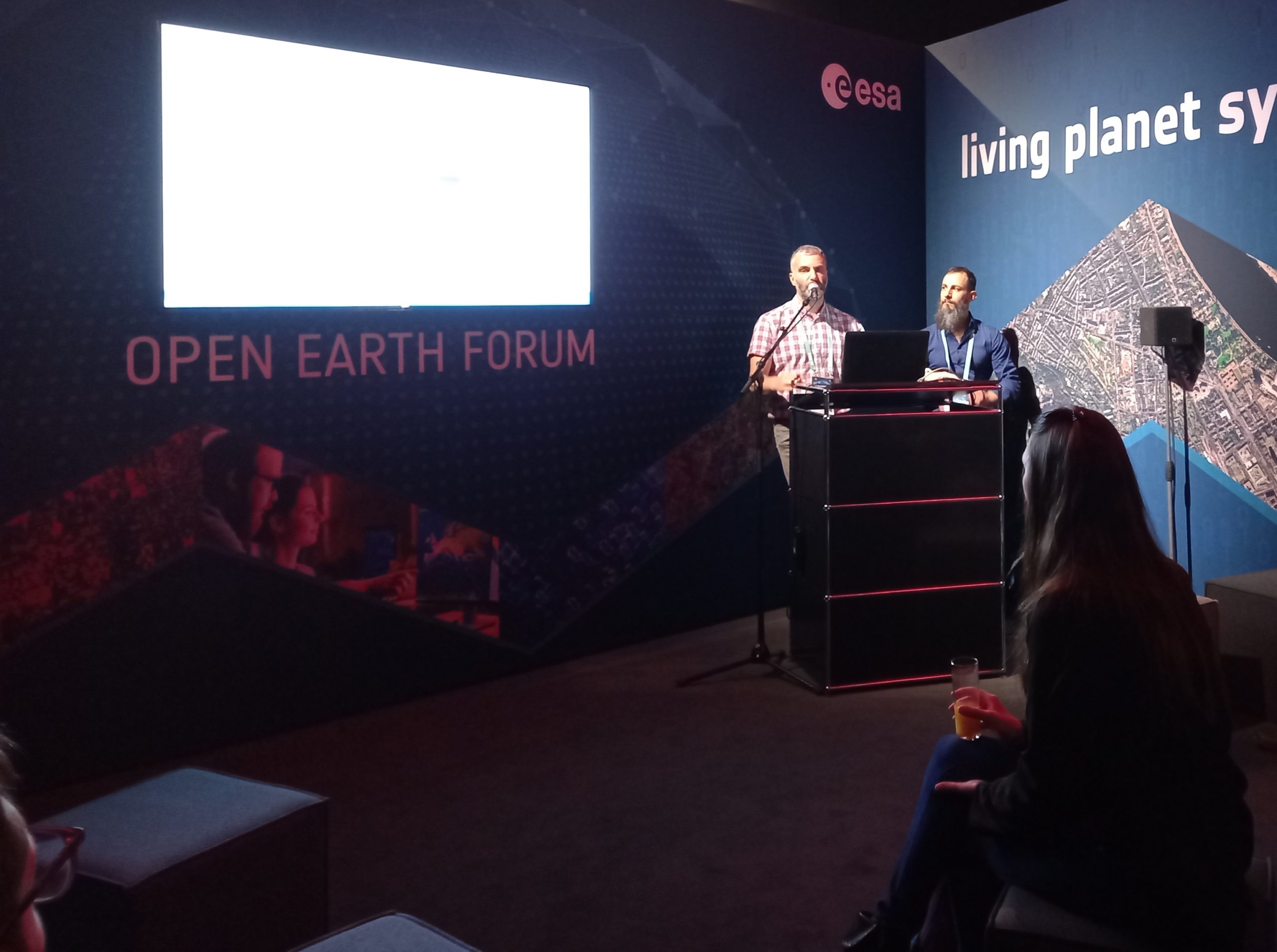 Matteo Dall'Amico at Living Planet Symposium 2022: Left – with Federico di Paolo presenting the eo4alps Snow app; Right: being interviewed
Benefits for businesses and communities
Monitoring water is only one of the ways in which satellite data will contribute to the benefits that the IMPETUS project is aiming towards. Remote sensing data inputs into the IMPETUS Resilience Knowledge Boosters and to digital twins of some of the project demonstration sites will also support improvements to, for example, early warning systems for flooding in Latvia and the Netherlands and for landslides, avalanches and fjord tsunamis in Norway. It will also support regional climate change policy and investment decisions that benefit agriculture, aquaculture, fisheries, marine spatial planning, forestry, tourism and other sectors as well as local communities in these and the other participating regions in Spain, Greece and Germany.
"Remote sensing is one of the keystones of our project, to understand the characteristics of all the dynamics of the different ecosystems that we will monitor and retrieve information about the risks and hazards that are connected to climate change in the different demonstration sites. In taking advantage of the ability of remote sensing to constantly monitor the different regions in Europe, we will be able to provide useful information for local communities to understand how their environment is changing and what kind of measures they will be able to take in order to adapt and mitigate its effects."

Andrea Marinoni, Associate Professor of Remote Sensing at UiT The Arctic University of Norway and leader of IMPETUS work on Adaptation Pathways and Innovation Packages
ESA Living Planet Symposium 2022: Left – the exhibition area; Right: event graphic
ESA Living Planet Symposium
The European Space Agency (ESA) annual Earth Observation symposiums bring together thousands of scientists, satellite technologists, policy makers and data users. The ESA Living Planet Symposium in Bonn on 23-27 May 2022 was among the world's largest Earth Observation conferences, with a record-breaking 5000 participants. Throughout the week, they showcased the latest advances in Earth observation and highlighted the essential role of Earth observation for decision making regarding the ongoing climate crisis.
This event was an excellent opportunity to present the IMPETUS project's goals and activities to a knowledgeable audience and to request that future satellite missions should be planned in ways that safeguard and improve the remote sensing data that are so crucial for climate change research and adaptation.
Further information